Ultimate Galapagos: Central Islands (Grand Daphne)
Booking Dates
06/21/2023 through 12/14/2024
Travel Dates
06/21/2023 through 12/17/2024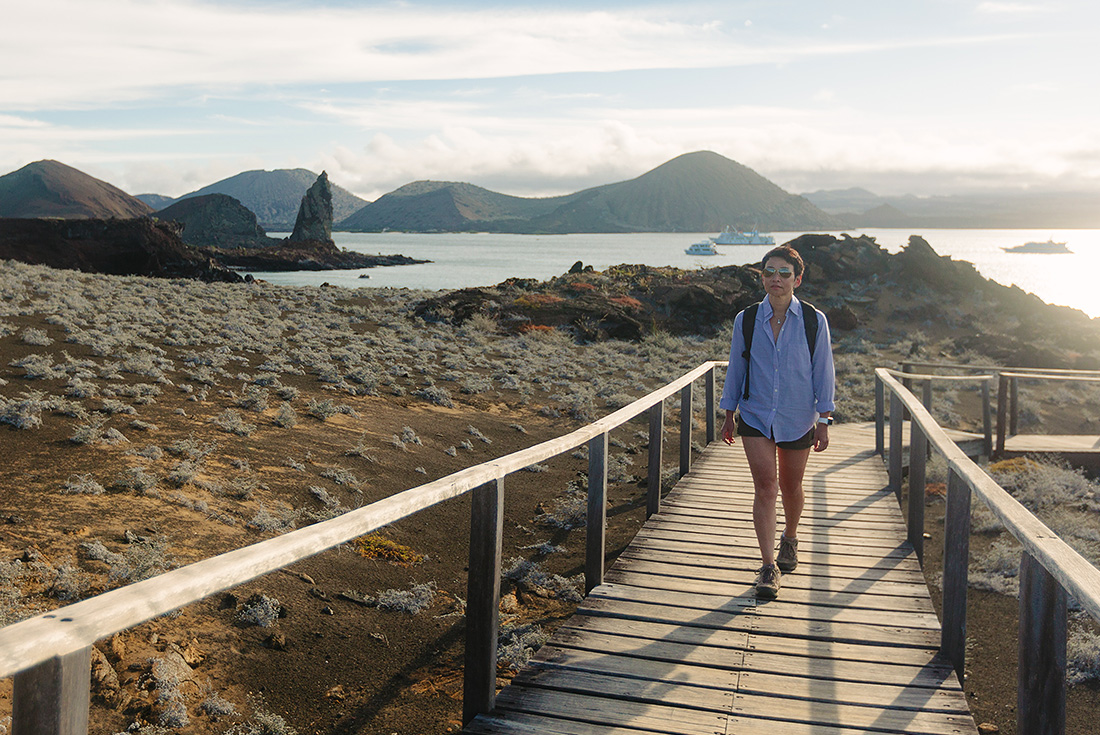 Ultimate Galapagos: Central Islands (Grand Daphne)

When it comes to encountering wildlife up close and personal, a voyage to the Galapagos Islands really is an experience like no other. Head underwater off Isla Santa Cruz, Bartolome or Isla Isabela and you'll be snorkelling with sea lions, white-tipped reef sharks, sea turtles and penguins. Look to the skies in North Seymour or Caleta Bucanero and you'll spot boobies, pelicans and more soaring above. Head out for a wander across the volcanic landscapes of Punta Espinosa and you'll see land iguanas and flightless cormorants. This 10-day sailing expedition through the central islands of the Galapagos is an adventure waiting to happen.

Activities
Isla Santa Cruz – Bachas Beach Walk (1 hour) – Wet Landing
Isla Santa Cruz – Bachas Beach Snorkel (45 mins) – Wet Landing
Isla Rabida – Walk and Snorkel from the beach (2 hours) – Wet Landing
Isla Isabela – Punta Albermarle – Snorkelling (1 hour)- Dry Landing
Isla Isabela – Tagus Cove – Walk (1.45 hours) – Dry Landing
Isla Isabela – Tagus Cove – Snorkel (1 hour)
Isla Isabela – Urbina Bay – Snorkel (1 hour)
Isla Isabela – Urbina Bay – Walk (1.5 hours) – Wet Landing
Isla Fernandina – Punta Espinosa – Snorkel (1 hour)
Isla Fernandina – Punta Espinosa – Walk (2 hours) – Dry Landing
Isla Fernandina – Punta Vicente Roca Snorkelling (1 hour) Dry Landing
Isla Fernandina – Punta Vicente Roca – Panga Ray boat tour (30 mins)
Isla Santiago – Puerto Egas – Walk (1.45 hours) – Wet Landing
Isla Santiago – Puerto Egas – Snorkelling (1 hour)
Isla Santiago – Caleta Buccanero – Panga boat tour (1 hour)
Isla Santiago – Caleta Buccanero – Snorkelling (1 hour)
Isla Bartolome – Walk (1.5 hours) – Dry Landing
Isla Bartolome – Snorkelling (1.5 hours)
Isla Sombrero Chino – Snorkelling (1.5 hours) Wet Landing
Isla Sombrero chino – Walk (1.5 hours) Wet Landing
Isla North Seymour – Snorkelling (1 hours)
Isla North Seymour – Walk (2 hours) – Dry Landing
Isla Santa Cruz – Charles Darwin Research Station (1.5 hours) – Dry Landing
Isla Santa Cruz – Highlands Visit (1 hour) – Dry Landing
Highlights
Experience the benefits of small group travel aboard your vessel, M/Y Grande Daphne, sailing through the natural beauty of the Galapagos, day and night.
Explore the remote west coast of Isabela on a small panga boat, and venture to the far-west Fernandina, home of the highest density of marine iguanas.
Encounter the unique Galapagos wildlife in their natural habitat, from giant blue-footed and masked boobies, pelicans and frigate birds to iguanas, sea lions and turtles.
| Day | Description | View All |
| --- | --- | --- |
| Day 1 | Quito | Details |
| Day 2 | Isla Santa Cruz | Details |
| Day 3 | Isla Rabida - Isla Isabela | Details |
| Day 4 | Isla Isabela | Details |
| Day 5 | Isla Fernandina - Isla Isabela | Details |
| Day 6 | Isla Santiago | Details |
| Day 7 | Isla Bartolome - Isla Sombrero Chino | Details |
| Day 8 | Isla North Seymour - Isla Santa Cruz | Details |
| Day 9 | Isla Baltra - Quito | Details |
| Day 10 | Quito | Details |