Central Asia Explorer
Booking Dates
06/04/2023 through 10/23/2024
Travel Dates
06/04/2023 through 10/26/2024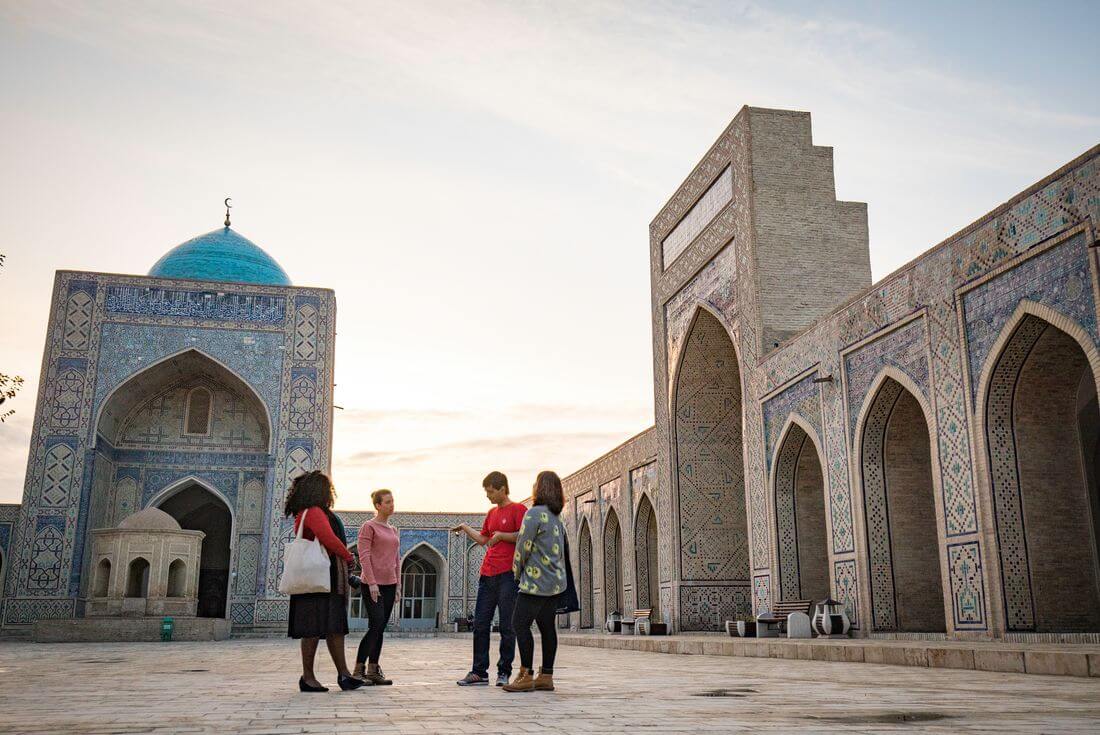 Central Asia Explorer

Be entranced by the beauty of Kyrgyzstan and historical wonders of Uzbekistan on this 17-day tour. Traverse landscapes of alpine lakes and mountains interrupted only by dots of yurts, feel the divine artistic power of the detailed mosaics and towering minarets of ancient cities, and be welcomed into homes and family-run businesses by locals. A mix of ancient nomadic cultures, various iterations of both conservative and progressive Islam, Soviet influence and post-independence nationalism mean Central Asia is home to unique traditions. Travels here will leave you raving about the region for years to come and planning your next trip back as soon as you get home.

Activities
Bishkek – City Tour
Shamsy Valley – Burana tower
Tokmak – Dungan family visit and home-cooked lunch
Issyk-Kul Lake – Yurt workshop
Issyk-Kul Lake – Eagle Hunter Visit
Uzgen – Uzgen Minaret & Complex
Osh – Sulaiman-Too Mountain
Osh – National Historical and Archaeological Museum Complex
Tashkent – Chorsu Bazaar
Tashkent – Khast Imom Complex & Moyie Mubarek Library Museum
Tashkent – History Museum of the People of Uzbekistan
Samarkand – Plov cooking demonstration & family visit
Samarkand – Leader-led orientation walk
Samarkand – Bibi-Khanym Mosque
Samarkand – Gur-e-Amir Mausoleum
Samarkand – Registan
Samarkand – Shakh-I-Zinda
Bukhara – Sitorai Mohi Hosa Palace
Bukhara – Chor-Bakr Necropolis
Bukhara – Ismail Samani Mausoleum
Bukhara – Kalon Mosque
Bukhara – Ark Fortress
Highlights
Get to know the locals as you meet a local eagle trainer (or Berkutchi), learn how to build a yurt in a local workshop, test your taste buds with a dinner of home-cooked plov (Uzbekistan's signature dish) and rub shoulders with the locals in the bustling bazaars
Travel along the Chychkan River beneath the towering peaks of Kyrgyzstan's Tien Shan range, mountains even more spectacular for emptiness of the valleys below them.
Enjoy authentic experiences like sleeping in traditional yurts on the banks of Lake Issykul, staying in local villages and making yourself at home in a boutique hotel that used to be an old Jewish house in Bukhara
Wander through the grand square Registan in Samarkand, admiring the imposing architecture from afar and the detailed craftmanship on the tiling up close.
Spend time in World Heritage-listed Bukhara, a 6th-century-BC city that's drenched in history and home to the formidable Ark of Bukhara.
| Day | Description | View All |
| --- | --- | --- |
| Day 1 | Bishkek | Details |
| Day 2 | Bishkek | Details |
| Day 3 | Issyk-Kul Lake | Details |
| Day 4 | Issyk-Kul Lake | Details |
| Day 5 | Song-Kol Lake (3016 metres) | Details |
| Day 6 | Kyzyl-Oi | Details |
| Day 7 | Suusamyr Valley/Chychkan River/Kok-Bel | Details |
| Day 8 | Osh | Details |
| Day 9 | Osh | Details |
| Day 10 | Border Crossing/Andijan/Tashkent | Details |
| Day 11 | Tashkent | Details |
| Day 12 | Samarkand | Details |
| Day 13 | Samarkand | Details |
| Day 14 | Bukhara | Details |
| Day 15 | Bukhara | Details |
| Day 16 | Tashkent | Details |
| Day 17 | Tashkent | Details |